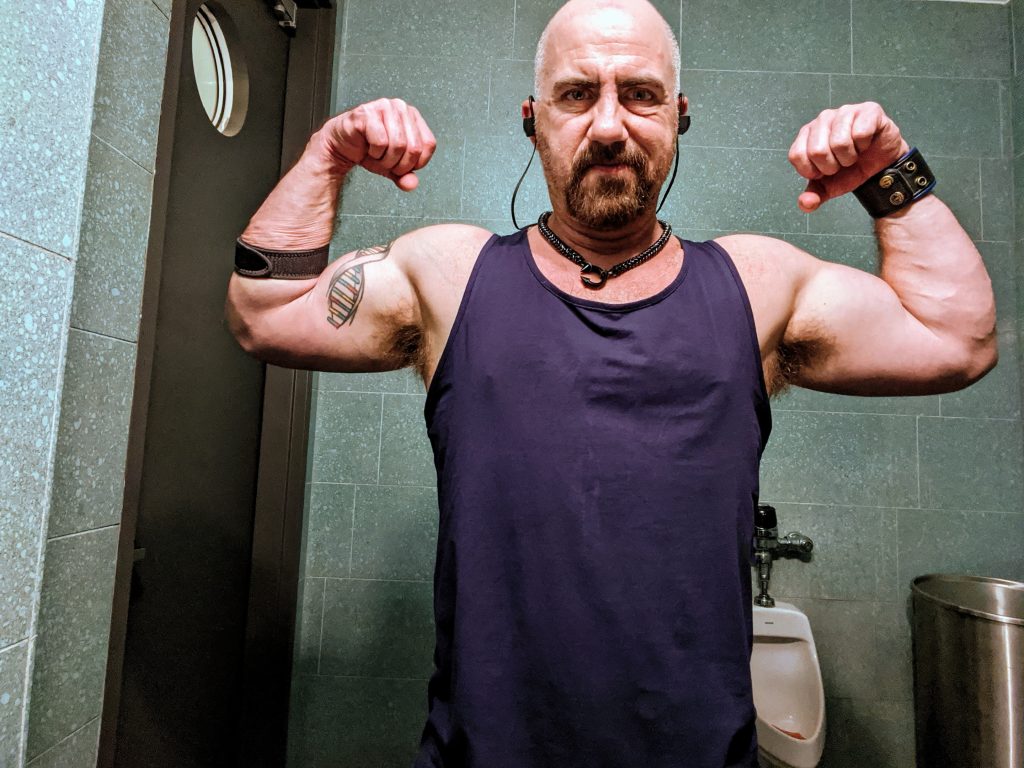 Consider this my "Body" issue where I blather on about different aspects of my struggle to stay fit along with random observations. Pretty trivial stuff ahead. You were warned.
I'm just a month away from my 49th year. (One year closer to ancient. hehehe) You can judge for yourself but I think I'm doing pretty good. But, like any guy, especially in the gay world, I always struggle with my size. It doesn't get me depressed but I'd be lying if I said I don't worry over it at times. There are days where I just don't "feel pretty." But considering my age I'm proud of where I am.
I injured myself a couple times this past year primarily because I was pushing myself too hard in the gym. I'm not a young man anymore and designing workouts that push the limits of my joints just isn't smart. I've restructured my workout regimen to give my joints, tendons, and ligaments a break this next year. My health is important to me as much as 'looking 'purdy.' I want to continue being able to work out as I age. Realizing it is time to adapt is the first step.
I have noticed more and more guys my age tend not to work out. Not a blanket assumption but an honest observation. From an attraction stand point it makes it a bit hard to be attracted to guys 'my age' when they tend to be outside my spectrum of attraction. [1]Having a younger very attractive muscle cub for a husband helps. Luckily, I have a wide range of age and types I'm into. On the flip side, I have apparently landed squarely in the "Daddy" category. I ain't mad but it tends to be a limiting view.
A guy felt the need to 'try' shame me on FB recently because I dared say I didn't support someone's choice in an article discussing his transition from a twink to a bear. He deliberately gained a significant amount of weight (fat weight, not muscle). The clear implication was he did it from an insecurity. I didn't shame the person in the article but commented on how he first commented he was still very healthy while needing to go on blood pressure meds and needing to be monitored by his doctor. That's not healthy. Anyway, said guy felt the need to come for me because I didn't glorify it. I don't feel like we should trade one restrictive stereotypical look for another one and glorify it. If that makes me the bad guy, well I guess I'm the bad guy.
In other news, I'm still on the low carb restriction. I try avoid processed carbs, like pasta and breads. I stick to rice/tators, which I love so not terrible. My only real regret is the pasta. I've had a life long love of pasta. I splurge every so often but that is a better choice than a daily meal of processed carbs. I find I do seem to be less tired during the days and keeping my weight at a level I like doesn't seem to require the mountains worth of cardio I was doing before. Basically, my insulin sensitivity has returned to a better range.
My words of wisdom in regards to your body are simple. Accept yourself, flaws and all. But, if you don't like your shape, do something about it. Don't look for excuses not to make an effort. You can accept yourself and strive to be better at the same time. In a world filled with convenience over health, it isn't always easy. But who said life was easy?