I know, I know…It's been like forever since I updated. I am a very busy person. [1]Said in a very affected nasally voice. lol  Lawd baby jeebus, the last few weeks have been hella busy. Work was off the charts for a couple weeks there. Then I was out for a few days as well.
I came into work today, polished off the mornings workload and then sat around a bit gobsmacked that I wasn't behind. The next batch promptly showed up and erased all that but still… Yes, I'm still fighting my morning schedule. Ugh!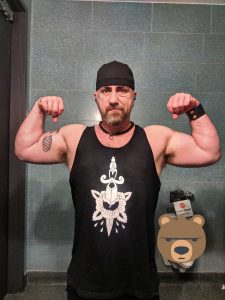 In other news, I've been hitting the gym pretty hard lately. I'm a whopping 218! With the exception of a chunky phase a few years back, this is the heaviest I've ever been. Most of it is the good kind of weight, albeit muscle! Yay! lolol  I was determined not to break my motivation streak so even when work was just messy I still made it a priority to keep to my gym schedule. I'm happy to say my arms and chest are looking 'tight'! heehee  My poor legs are still looking boney as hell though. I've neglected them for so long and talked about working them out for so long as well. I've finally been putting my money where my mouth is but they are still behind the rest of me. I actually see it now so I' m all about bringing them back into balance.
I'm finishing up this week on a bulking routine. I switch over to trying to lean up a bit next week. This means I have to actually start eating better. I don't eat a lot of fast food but I tend to eat a lot of rich foods. This isn't helping my waist line. heehee  I've already been weening myself off the rich foods. I don't honestly think I will struggle too much. My biggest challenge is keeping the food I need to be eating in the apt. Between Amazon Fresh and Instacart, hopefully I will maintain. Wish me luck!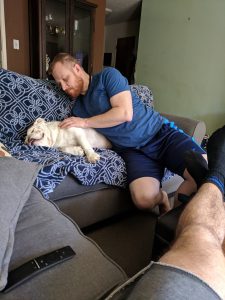 Cooper was feeling good this past weekend so we got out for a lovely walk. Just around the hood but still. He'll be 8 this next month and while he is still energetic, he just doesn't endure the walks like he used to. I remember Spike at this point would barely walk 2 blocks to the park and back. hehehe He was such a rascal. Cooper is much more energetic than that so I'm still liking where he is health wise.
My sister from another Mister is coming to visit in late May. I miss that old heifer so it will be great to catch up. The only thing I truly miss from back home are my two besties dirty snatches. I need to contrive a way to get them both up to Cali.
Right after that, we are off to Disney World. We are treating ourselves to flying first class. Trust me when I tell ya we can't afford first class all the time. This is a rare treat and I'm actually looking forward to it. The few times I've flown first class were free upgrades from friends in the business. Of course, we are going for Gay Day's. I'm saving up my liver for the round-the-world drinking binge at Epcot on Sunday. hehehe
Ugh, duty calls. A new batch of work just arrived to keep me busy for the rest of the day.