My present to myself this year was a new Pixel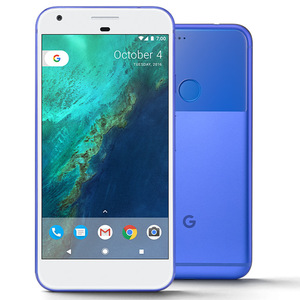 XL phone. As some of you might remember I rejoined the Sammy line with the S7 Edge a few months back with the promise of better battery and less bloat. And while the battery was better, after an OS update it went back to being marginal at best. After much back and forth in the forums and tweaking apps to pin down a bad player, I just gave up. And for most people, the battery is probably more than sufficient.
I'm a power user and I still lament having to give up my Experia Z3. The best smartphone battery ever! Hands down the winner in real world use. That thing would last all day with heavy use. Anyway, seeing more and more reviews for the Pixel battery and other features, I couldn't help myself. I couldn't "jump" on the Tmo plan since it is currently "exclusive" to Verizon. However, tricky Tmo found a work around in that they'll reimburse you monthly up to $325.00 if you register the Pixel on their network. Sold! The only hiccup was the lady tried to force me onto one of Tmo's newer plans. I staunchly refused and threatened to back out completely. After some back and forth and her seeing how long I've been with Tmobile, she relented. [1]That trick almost always works. With the exception of a brief 6 months on Cingular back in the day, I've been with Tmo since they were VoiceStream
I am absolutely in love with the Pixel XL. First, it is 100% Android. If you have never used a Nexus brand with pure Android, you have never experienced the OS the way it was meant to function. It is simple and elegant. Not a lot of fluff but gets the job done. Google leaves the fluff to app-developers. However, if a certain feature becomes super popular as to be almost ubiquitous, Google will incorporate it into newer versions of the OS, touch sense, smart lock, etc. The OS in it's purest form is just lovely. I'm so glad to be back. The Moto X Pure I had was pretty close, it just turned out not to be a good performer in chip speed.
I left the Nexus brands in the past due to mediocre hardware. This time around the new Pixel brand from Google is no slouch in the hardware department. It is definitely a premium phone. Hopefully, they learned from the previous failures of the Nexus line. I opted for the larger XL as I am accustomed to the larger screens. Also, being on pure Android means I get security patches or upgrades to the OS as soon as they are released. No more waiting for the carrier or hoping they even get around to doing an update. Google is pretty strict about the patches but OS upgrades can be hit and miss. A huge annoyance but still a first world problem.
I opted to transfer everything directly this time using the cable from phone to phone. OMG! It was super fast. Way faster than waiting for everything to re-download from the app store. Some of the apps didn't even seem to notice I had moved, I was still logged in and everything. I was up and running at record speed. Other phones offer this too, this was just the first time I opted to use it.
Shawn commented he thought it looks like an Iphone because of the white bevel; however, I disagree. No dimple and no silly lightning port. heehee The fingerprint sensor is embedded in the back and rather than your thumb ease of use requires your index finger. It also turns on and unlocks the phone at the same time if you place your finger on the sensor while the screen is off. Sammy you had to at least push once to wake up the phone, then the sensor woke up. Not a big annoyance at all but one less step is always nicer. Of course, I opted for the "really blue" colored one. I'm not a big fan of the large bevel on the bottom but I'm already used to it. At first, I kept looking for the old S7 button on the bevel.
The most important part so far is the battery. It is definitely better! I would say not quite at the Z3 level but pretty damn close! I can get thru a full 10 hour work day with moderate to heavy use and still have enough to hit the gym and make it home before needing a charge. If I use is super heavy, I still get thru work but need a quick charge before hitting the gym. It does not support wireless charging but it does have quick charge. The one annoyance is I have to upgrade some of my cables since the new phone is USB-C. The latter is the new version of USB with a uniform shape so no matter which way you plug it in, it fits. [2]You'd think the tech world would have had this ages ago. It comes with a USB to USB-C out of the box and a USB-C dual end cable. These are fine but I need longer cables so will have to invest in extras. It does suck a bit after having the same standard for years to have to switch to newer cables. Again, first world problems.
Getting the phone was a bit of a pisser. FedEx sucks monkey balls. The phone shipped overnight for a premium. I paid the premium. It's supposed to ship with guaranteed next day delivery by 3pm. Or so FedEx loves to claim. The next day rolls around no phone by 3:00 pm. I wait till 4:30 to call. I knew being Xmas eve, expecting it to on time at 3:00 was a bit much. I wasn't angry or upset. The tech looks it up and assure me it is on the truck and would arrive sometime before 8:00 pm. Ok, no worries. I had signed up for the email updates so around 6:30 pm I get an update that the package was rechecked at the SF facility! Needless to say I'm a bit confused. I call and spend roughly 20 minutes on hold. No exaggeration, I spent that amount of time on hold. It's now after 7:00 pm. The first tech was completely indifferent and couldn't be bothered to care. He gave me some excuse about the shipment being delayed. I'm like you realize that is a total lie, right? Your company said it was on the truck twice today, there is no delay in shipment. He hems and haws and finally admits the tech had too much delivery and didn't finish. I'm like, "ok, but that still doesn't explain why it is checked back in at 6:00 when you're supposed to be delivering until 8:00 pm." He seemed utterly flummoxed that his indifferent answer didn't satisfy me. I finally end up with a supervisor. It is now 7:40. The supervisor is just as indifferent and was even less helpful. Since we were leaving for LA the next day and I really wanted to have the phone to take with me, I asked if they could hold it and I would pick it up. Nope! We totally dropped the ball and even know we've verified you are the recipient, we totally can't hold it. I'm so livid at this point I had to say goodbye as I would have gone off and Shawn would have been mad at me for mistreating them. Granted they personally weren't at fault but I'd expect a little more help when calling. So the moral of this paragraph children? Don't ever use sh*tty FedEx. Use UPS. Hell, even the US Post Office doesn't act that indifferent and they are civil service!
All the frustration aside, I finally got it after we got back. First world problems abated. The phone is awesome and I'm in love with it. If you can afford it out of pocket [3]if you're not on Verizon and able to get it for free I highly recommend it. It is a great phone.