Well,  I survived my surgery. Lol  As you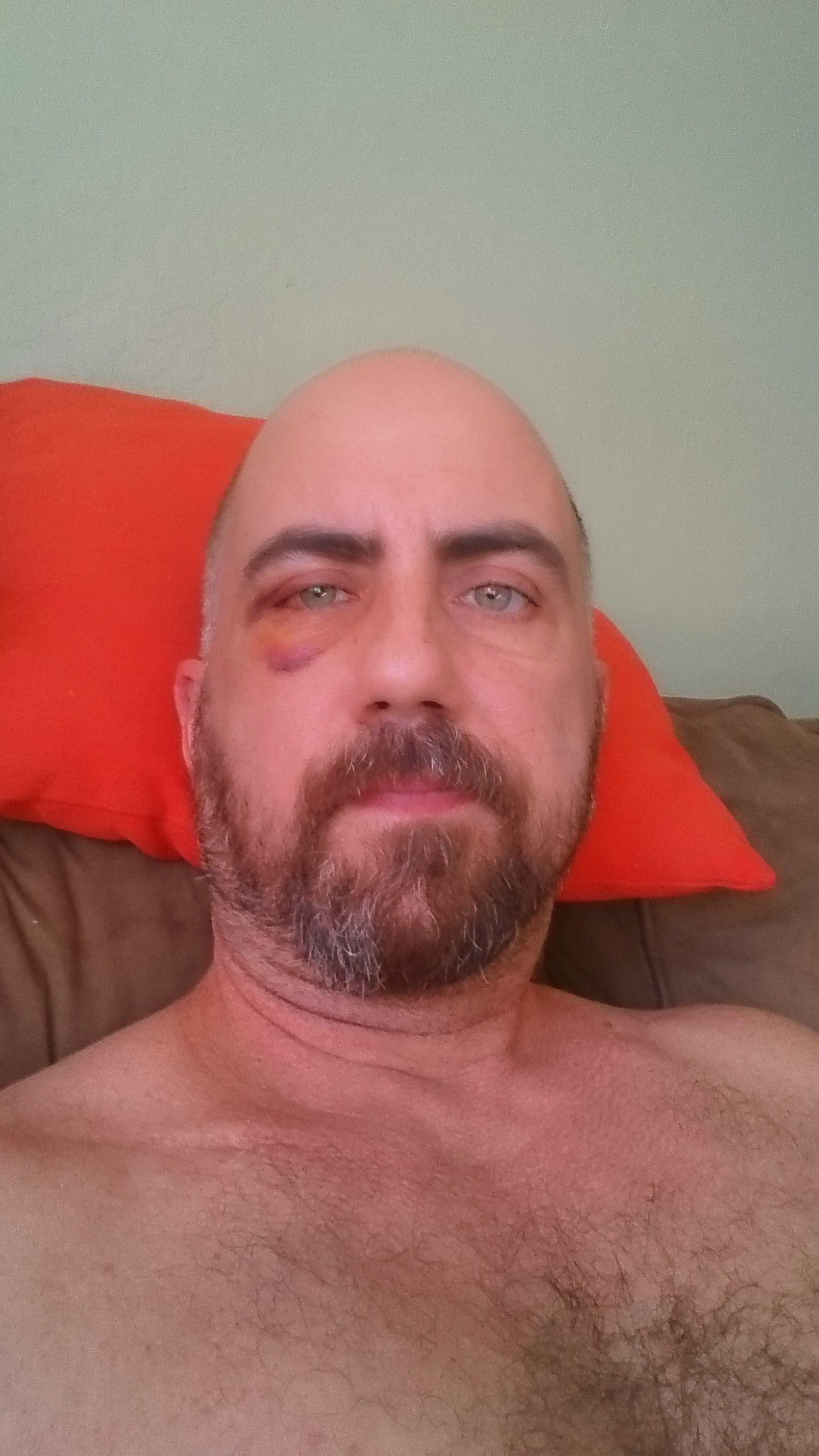 can see,  I'm on the mend.  The doc says the procedure went very well and he was able to accomplish everything.
Apparently, the problem has been brewing for some time.  The lower orbital bone was very thin due to constant pressure over a long period of time.  The final conclusion is my condition is genetic and the previous latent sinus infection may have just helped bring it forward sooner. He said had the bone completely disappeared,  the fix would have been much more involved. I guess in an odd way,  the infection turned out to be a good thing. 
The procedure itself was pretty simple.  The goal was to insert a polyurethane 'sled' into the orbital sheath that surrounds my eye. It sits above the orbital bone but below the eye.  He didn't have to cut my face at all; he went thru the eye lid.  Basically,  he made an incision in the orbital sheath, shoved the sled in,  and then placed it properly.  Apparently,  he had to make some last minute modifications as the eye sinkage was down and backwards or inward.  The inwards part is what is believed to have caused the double vision.  Anyway, he was very pleased with the procedure and said it went as well as it could have been expected. 
My vision was immediately better,  even from my initial recovery from anesthesia.  The range I could turn my head without incurring double vision was greater and my eyes take less time to focus. At the follow up visit the next day he said I should continue to expect small gradual improvements as the swelling goes down and it heals.  I can no longer see a difference in my eyeballs,  they look perfectly even again.  [1]On close inspection,  you could actually see that my right eye was lower and slightly sunken in compared to the left one.   My eye still looks a bit sunken but that would be from all the swelling.  Lol  He seemed a bit proud of himself when measuring them.  I guess it isn't a perfect science and 'results may vary'. I still have some double visions but even that is reduced and the angle to incur it is back to levels that would be very livable even if I saw no more improvement. 
He thinks my vision,  in regards to the diploma,  will return to normal once all the swelling goes down.  In the event it doesn't,  any minor corrections can be accomplished with contacts/glasses.  They would not go back in to 'adjust'  the sled unless there was 'slippage'.  Again,  he seemed to indicate the sled was a perfect fit and I shouldn't expect any problems.  Since,  I already need contacts for my slight near-sightedness in the same eye,  it would just be a matter of adjusting my prescription with a slight prism enhancement.
So far,  my daily vision is better.  I've noticed several improvements including  no more feelings that my eyes were routinely fighting with each other for focus.  It sounds odd but I'd begun to notice my right eye was weaker. Anytime,  my head tilt didn't compensate for proper view,  the right eye would sort of just give up for a bit then finally refocus.  That affect is all but gone now. The double vision at sharp angles and looking up is still present but greatly reduced.  I'm hopeful each day will bring additional improvements.  Either way,  I'm eagerly awaiting being all healed up.
I don't think I realized how much it bothered me until after I had the surgery.  We pretty much take our vision for granted in our daily comings/goings.  Before the surgery,  it had gone from being a random annoyance to a daily struggle.  It would often take minutes vs seconds for my eyes to gain cohesive focus in the mornings. Anything outside the front facing slightly downward view would become two images.  It was odd noticing how much detail was lost when trying to ascertain between two distinct images. My apprehension level went up every day as my vision decreased. People had started commenting on the angle of my head as I had developed an unconscious habit of tiling my head up to compensate. Ironically,  work life was impacted the least.  I think because I already tend to view my monitors slightly below eye level.  Anyway,  the daily coping would have only lasted so much longer. Now that the surgery is over my eye sight is amazingly better.  Seeing the abrupt difference really brought home how bad it had gotten.  I'm incredibly grateful it went ok. 
Now, I just need to wait it out.  Daily eye drops and lots of ice for the swelling. Time will tell if my vision is 95% or 90% restored.