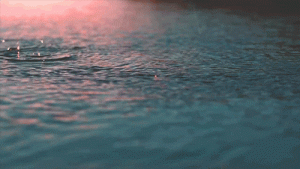 It is rare to get rain in SF this time of year, but even rarer for it to be warm and a thunderstorm! We had one this past weekend. OMG It was amazing [1]Even though I missed most of it
There aren't many things I miss about the South, but the warm rain is definitely one of them. Rain here is often cold (and miserable). lol  To get a warm rain and a thunderstorm is a rare treat. Sadly, I slept right through the thunderstorm part. Yup. It was all over by the time I woke up. I did get a nice walk in the rain though. I had to get Miss Daisy settled first. She tolerates it because where daddy goes, she goes, but she hates the rain. Afterwards, I took a leisurely stroll down to Starbucks to get my weekend caffeine fix. I took my sweet-ass time. I missed most of the rain but the tail end was light and just a delight!
I used to love warm rain growing up. I didn't care if it was 'stormin', I like to be in the rain. Anytime it does happen here, I'm always reminded of one weekend playing with my older brother in the rain. We had that game where you run and  standing slide as far as you could without falling. Of course, he always won. But that was never the point. I'm grateful I do have some fond memories of my childhood. Warm rain is definitely one of them. 
It's funny because people here worry about lightning from thunderstorms like people from the South worry about earthquakes here. And people talk about it for weeks afterwards. Weeks!  
I'm sad I missed the bulk of it, but it was a lovely morning. We've been having a mini heat wave so the rain was a nice break from the previous day heat. It reached 96 in the city so I know the burbs were cooking. If nothing else, it put me in a good mood. I momentarily forgot about all the drama in the world right now. It was just me and the drizzling warm rain.
Hope springs eternal…