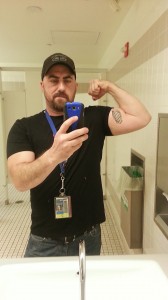 Today I weighed in at 202lbs on the scale! This marks the first time in my life that I crossed the 200lb threshold! Ok, not exactly true. I crossed it once last year but it was fat-related. lol This time, I'm at my regular fat % and still over 200lbs! To say I'm giddy would be an understatement. I've been working out consistently for about 17 years now. [1]Give or take a year or two. I'm doing this all from memory. lol  My previous attempts met with failure back then because I was working out for the wrong reasons. Once I decided to take care of my body for my reasons and my goals, I stuck with it. When I came to SF, it was a new chapter in my life and switching to a gym like Fitness SF [2]Formerly Gold's that was dedicated to muscle-building also made a huge difference.
I don't remember the exact body weight I was at back then but I do remember it was roughly around 140-150lbs. I do remember weighing in once at 155lbs when I was still living in Boulder, which was 1995. That was also about the time I started working out in earnest. In roughly 17 years I've put on 45-50lbs of muscle. Sure I could have been more dedicated and gained it faster but that isn't the point. The point is if a little scrawny weakling like me can put on that much muscle and size, anyone can. Seriously, I was so bone skinny back then it was laughable. I've mentioned it here probably countless times but my chest was so slight it actually sank in a little. My forearms now are bigger than my biceps were when I first started working out. It's crazy because while I don't see that skrawny kid anymore, he still lurks in my id. Thankfully, he is being subsumed by the new me.
The above bicep shot is a rare shot of me flexing. I don't do pics of me flexing my biceps a lot because my biceps actually bulge out as much as they bulge up. I know it's a bit odd but it is also sort of self-defeating when taking a bicep flex shot. lolol Of course, if I try to hold the bicep in so it bulges up instead of out, it looks like I'm cheating. hehehe Anyway, I'm just so excited. When I started out, breaking the 200lb barrier seemed like such an abstract and never-attainable goal. Honestly, back then it was mostly wistful thinking. After getting serious about weight-training, I suddenly realized my wistful goal was actually very real and very attainable.
Of course, this just makes me want to work out that much harder!