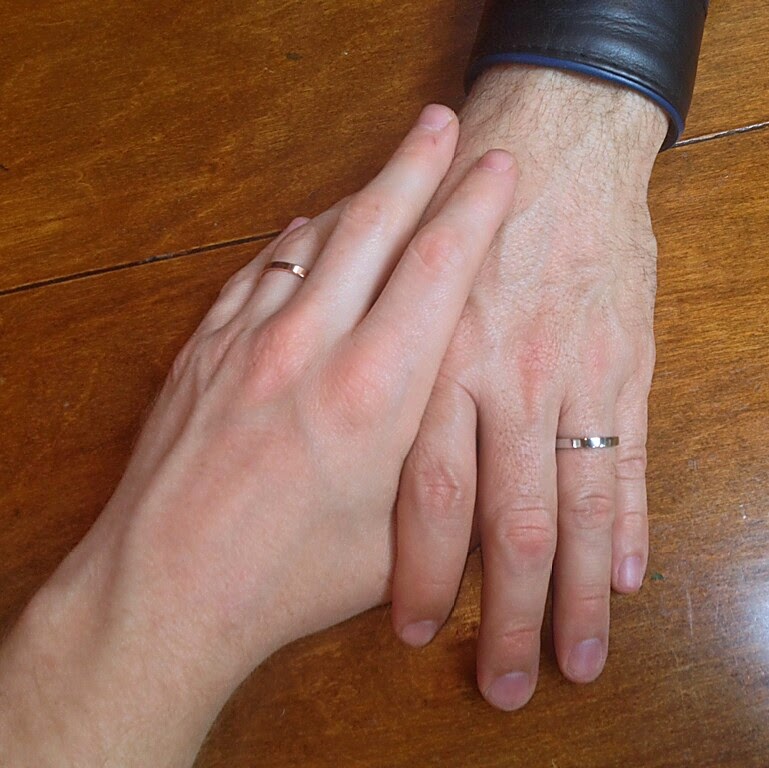 I've been MIA here as of late due to my work schedule. If you're here via the web, you'll notice the new template. This is the one I will most likely keep for awhile. But in other news and if you haven't heard by now, I got engaged!
For the first time in my life I'm engaged to marry. The historical importance is not lost on me but that is a rant for another day. Today is about how happy I am to be eagerly awaiting such a big event. This is truly a life event for me and I couldn't be more excited. Being with The Pup has taught me what it is like to be so in love and completely compatible with someone. He is my best friend and my lover and I have no hesitation tying the not with him.
Everyone keeps asking how I did it? The Pup and I are both gamers. I rent games thru GameFly, which is like Netflix for video games. The envelopes come pretty much the same as they do for regular dvds. On a tangent, we'd already decided a while back that we wanted to do two sets of rings. One set for the engagement and then a complimenting set for the actual event. Anyway, knowing he would kill me if I did anything big or hugely public, I settled on a more subtle surprise. If you've ever rented thru Netflix you know how the game sleeves work. I managed to get the cardboard cover and game out of the envelope without actually tearing it open. The disc comes inside with it's own protective fiber sleeve that also has the game name and info. Well, I decided to apply my own sticker and made it look like the game sticker as a close as possible. Except where the name and description were I had my proposal instead. And instead of a game disc, there was the ring. With some effort I got it back into the envelope and put it back in the post box.
I contrived a small chain of events that led to The Pup opening the game and examining it. Of course, he saw the proposal and to my delight said yes. It was a very personal and shared moment for us. I don't think anyone around knew what had just happened. I honestly thought it was perfect. I wanted to surprise him and still not embarrass him. And he really liked the way I went about it. He had no idea it was coming either. hehehe 
We don't have a date for the big event yet. It will most likely be another 3-4 months before we set a date. Both of us are content with where we are and don't feel the need to rush it. And while I will invite friends to be present, it will not be an overly dramatic event. lol Neither of us are into the whole big-wedding sort of thing. Something simple and local will be more than sufficient to officialize what we already know and feel.
It's an exhilarating feeling to be honest. Knowing that this will be my last LTR makes it seem even more right that this is the first time I wanted to and could legally marry my partner. If you'd told me a year ago I'd be proposing to someone, I'd have probably laughed or shrugged it off. It's funny how you can meet someone and they totally change your world.
As I always say, 'hope springs eternal..'