One has to only look at the pic to know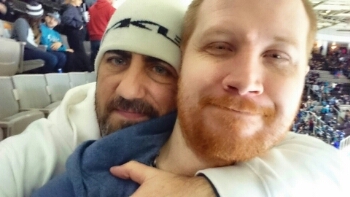 what the focus of my new year has been. March will be the 2 year mark that Shawn and I have been together and I couldn't be happier. Things are still awesome and I'm still grinning ear to ear.
2014 has been a good year for me. Shawn and I are still doing awesome. I'm sloooooowly converting him to life in SF and as much as he hates to admit it, he is adjusting. hehehe Cooper is still strong and healthy. Overall, I'm healthy [1]even though I feel all squishy from missing the gym too much and doing well. Beyond that, life is just simple right now. In many ways it is totally boring but we are boring together and that's what counts.
This year saw me threw 2 separate eye surgeries, both of which I came out of just fine. The eye is still a bit of an issue but it seems things are getting better. It will be months before I know if an additional surgery is required. I'm optimistic my busted eye will fall in line and I won't have to have the extra surgery. *Crossed fingers*
I need to get my squishy ass back into the gym more. Now that the surgeries are over, I'm trying to get back into it. All my pants are getting tight. lol
*
Looking forward, I'm eager for the next year with Shawn. I'm so happy sometimes I think i worry too much something will happen to ruin it. Old habits die hard and old demons die harder but I'm settling into the contentment that is my life right now. ​
I hope you that you and yours are doing well. I wish you all a very happy, loved, and prosperous new year!