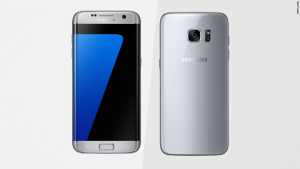 In other not tragedy and sad news, I got a new phone. I know, I know, color you surprised! Me with a new gadget?
I loved my Moto X PE, but I was overworking the poor thing. It just couldn't keep up with me. I even tried a hard reset to see if that would make a difference.1  For a 'mid-range' phone it sure was a good phone though. I don't regret forking over the cash one bit. I'd still have it if the chip had been stronger. The funny thing was the phone didn't have much bloat to it. It came almost stock Android, but I use a lot of apps. I was going thru it to see what I could get rid of to maybe help keep it and I really didn't find much to trim. It did make me realize just how much I use my phone for. Over 100 apps and 2/3's of those get used at least monthly. That's crazy!
Anyway, I had been hearing some good rumors the Samsung S7 was a leap over the S6 in regards to battery life. (I've realized a crappy battery is an absolute deal-breaker for me now, no matter how awesome the phone)  Critics were raving over it so I thought I'd give Sammy another whirl. To my surprise, it was good. It still isn't Xperia Z3 good, but a good 2nd place runner up. Tangent/ That damn Sony phone is still the go to phone comparison for battery life. /tangent  Anyway, the battery was pretty good but I've gotten so used to having a bigger screen I wasn't a fan. I went back and swapped it out for the S7 Edge. Even bigger battery and much nicer color palate (silver). And to be fair, the bloatware seems to be very manageable. It still has way more than is needed, but many of the apps can be disabled, even if you can't uninstall them. Samsung just needs to stick to making quality phones and ditch all the bloatware that virtually no one uses.
I was originally against the Edge as I am very hard on my toys and the curved screen is a recipe for disaster when it comes to my clumsy ass. But, I missed the larger screen so I'm chancing it. And as much as I hate phone cases (read bulky and ugly), I broke down and bought one. And not only that, I actually leave it on the phone! hehehe It's faux leather and only mildly bulky. The damn phone is covered by my Jump plans insurance so I figure if I break it, I can always get it replaced. My favorite feature so far is the new fingerprint reader and the incorporation of fingerprint security into Android. What a hassle-free function. I absolutely love it!
On a related topic, while I was considering the Moto way back when, I signed up for a Kickstarter phone, the Nextbit Robin. Well, I completely forgot about it until a year later when it arrived at my door!  Ooops!  I took it for a spin and it was nice. Very similar to the shape, size, and texture of the Experia Z3 actually. The battery was decent but still not at a level I needed. I was disappointed as I really wanted to like this phone. The cameras were the biggest let down after the battery. Both the front and back cameras are ok for everyday well-lit shots, but they simply don't measure up to most other phones, even in the same price range. For folks that don't take a lot of pics it would be stellar. It just isn't a good fit for me.
I'm considering selling it or giving it to charity since I don't use it. I'm only looking for the money invested. That said, I might also keep it as a dev phone to tinker with. I'm been slowly exploring the idea of teaching myself how to build apps for it. I need a device to practice on. As always, finding the free time to explore a new hobby is a challenge. ha! My schedule is already busy enough.
Ok enough rambling about gadgets. I could go on all day. Don't even get me started on the whole idea on upgrading game consoles only a year after the new one came out.
I keep everything in various clouds so never fear of really losing anything [↩]