Miss Daisy Mae has been with us just over a year now. She is settled into her life at the Moby-shack. She is healthy and doing well. She loves her Daddy & Pappa and spends a big chunk of her free time trying to get cuddles or snacks from us. Her cute little smile will just melt your heart. I mean look at that face. lol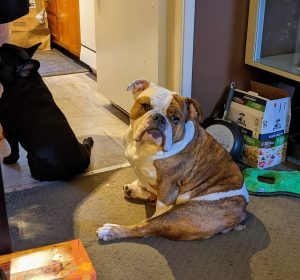 She is still a chewer with a slightly decreased inclination to swallow everything she chews on. She has determined toy stuffing is not to be eaten. We broke her habit of chewing on furniture and shoes. We can safely leave shoes out without fear of her destroying them. It is funny watching her work thru it in her head though. When she plays tug of war or 'chase the toy', she gets so excited. She works up into an almost fit. At this point, anything that falls in front of her face is a potential chew toy. Occasionally, a toy will land close to one of our shoes and she'll inadvertently grab the shoe. Right about the time we are about to scold her, you can see in her face/eyes she realizes the item is a no-no and drops it in favor of the toy. She is such a little stinker!
She will still try to hoover up any random berries or tree droppings she finds while on her walks. Acorns, bush berries, random squashed lemons, [1]Several neighbors have lemon trees. it is all fair game to her. I'm quite sure they've given her an upset tummy on more than one occasion. We still have to keep a close eye on here during walks. Speaking of walks, she tolerates walks to do her business, but in very typical bulldog fashion, as soon as the business is done she is ready to return home.
Home life is good otherwise. Her and Toby have gotten better at rough-housing without Daisy getting frustrated. Toby is forever trying to get her to play tug of war and chase. She likes to play but only until she actually gets the toy. Then she just wants to settle and chew on it. Meanwhile, Toby will continue trying to swap chew toys or bait her to play. At some point, she gets frustrated and snaps at him. He in turn will run up to the closest adult with this look on his face like, "Daisy won't share the toy!" Daisy has realized the routine and gets less annoyed with him. Toby adores her and will actively seek her out for play. She is content with her humans, but happily engages with him.
Shawn kept pushing me to let her sleep with us, so she is now a bed dog as well. I'm not against it too much since she doesn't shed anywhere near as much as Cooper. Even on allergy meds, Cooper was constantly shedding. If she isn't already passed out snoring, Daisy will routinely hop up in the bed and face the bedroom door when she realizes I'm getting ready for bed. Of course, Shawn is still learning to deal with her snuggles that turn into hogging the bed. I don't have the problem because she has figured out when I push my legs up under her, she needs to move. lolol  I'll routinely wake up for work and find Shawn half off the bed as he contorts himself around her.
Speaking of Cooper, I still think of him almost daily. I miss 'the precious' as I liked to call him. I'll randomly slip up and call Daisy by his name. The dull pain of his passing is still with me. I'm not sure it will ever go away.
So there ya have it. The princess is doing well. You can see from the pic, she clearly isn't missing any meals.