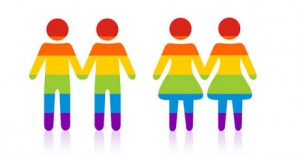 Well, we finally made it! On June 26 2015, the United States Supreme Court confirmed that any two people can marry, regardless of gender. We can officially stop referring to it as gay marriage and just call it what it is, marriage. This marks a pivotal moment in history folks. This is the domino that will tumble the rest of the archaic laws preventing us from being treated fairly in the eyes of the law. The excuses, the pretense, and the scare tactics won't be enough anymore. This decision may only apply to marriage rights but it's ripples will be felt everywhere.
Oh, I'm not so foolish to think everything will just be hunky-dory. No, there is still a lot of hate out there. And we are still being targeted by extremists and bigots. Our fight is not over but the tide as well as the right has shifted now. And as time goes by the bigots, haters, and fundies will be relegated to the history books to be scorned by future generations. Now we must turn our attentions to trans rights and making sure they obtain protections and equality under the law as well. No person should ever have to feel like an outcast simply because they were born different. The fight is not over for them and so it is not over for us.
*
For myself, I never thought I'd see this day. It was only in the last 5 or so years I dared to hope for it. Growing up in rural East Texas, I just assumed I'd always be an outcast. I'd never be part of 'normal' people. Back then you just learned to accept it and try and carve out a life for yourself. You did the best you could and hoped for the best. Well now, those days are over.
In many ways, I don't feel much different. My life overall won't change much after this ruling. It is almost anti-climatic in many ways as we were lucky enough to get equality in California already. But, I can move forward without fear of leaving California now. Shawn and I have yet to tie the knot, but knowing we can do so and be accepted in all 50 states is a huge deal. I won't worry about hospital visits. I won't worry about my or his legal rights in case of an emergency. I frankly won't worry that much at all. I can make legal decisions and preparations w/o extra steps to protect him. I can make plans for our future and not "mine and his."
This is indeed a wonderful day!