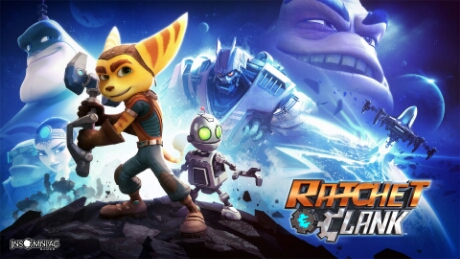 I was all set to ramble on about Destiny the game eating up on my attention in gaming until I came home last night to a surprise from Shawn. He got me the new Ratchet & Clank! I didn't even know it was out yet! What can I say? He gets me!
R&C is one of my all time favorite games. So far the new one is a mixture of new content and homages to the original story line. It's quite funny and enjoyable to play. It doesn't seem overly difficult but it could just be I've steadily been playing Destiny so my skills are still 'up'. I had to force myself to go to bed last night otherwise,I'd still be playing it. heehee
I'm sure you are just dying to know my game habits. Yes, I'm still playing Destiny. I stopped for awhile but it pulled me back in. I've exhausted all the content but for some reason I still enjoy the Strikes , the POE [1]Prison of Elders and even the occasional side mission. There is one more DLC [2]Downloadable Content due out this year before Game 2 drops in 2017. Game 2 is expected to be a whole new group of planets with all new content. I switched back to the XOne for most of my game play. (I have it on both consoles, don't ask! lol) Many of my buds play are on PS4 but I just seem to enjoy the XOne version better.
The new Gears of War is out very soon. I played the beta, which was focused on multi-player. The graphics were stellar as always. Then there is the new version of Doom finally being released after what feels like an eternity of promises. Again, the beta focused exclusively on the multi-player. It's getting really frustrating that many of my favorite games are all shifting away from single player or campaign modes to multi-player. I get it, there is more money in multi-player but don't forget the players that made you famous in the first place. Many of the top developers are practically falling all over each other to churn out the multi-player versions of their respective games. They end up being the same story with different graphics. Ugh. Don't get me wrong, I like multi-player games, but I don't play for ego or competition. I play for fun and don't mind a little competition. I think Destiny holds my attention so much because it captures the best of both.
Anyway, Ratchet & clank is calling my name so gotta go. . .