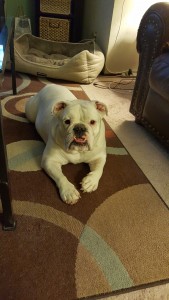 And just when you thought you'd seen enough posts dedicated to the Cooper Pooper, here's another one.
Ain't he just adorbs in this pic? So regal, so graceful, so elegant…NOT! Don't let that smile fool you. He is the farting-ist, smelly bulldog you could ever meet! Even with a very strict diet, he routinely stinks up the place. heehee
Otherwise, he doing quite well these days. It doesn't even seem like it's been 3 years since I rescued him (and he me). He is coming up on his 6th birthday in May.
I've mentioned several times my concerns about his future health. Bullies are prone to health problems, but being white makes Cooper even more so. So far he is still doing well. [1]Bullies that are over-bred can die sometimes as early as 6 Other than his ever present sensitive skin, he has only shown small signs of developing arthritis. It seems minor and does not need medication as of yet.
Since he loves being under the covers anytime he is allowed in the bed, I've taken to throwing one of his blankets over him at night before he goes to bed. He looks so cute all tucked-in in. And make no mistake, he loves it.
I'm starting a new vitamin/supplement regimen for him soon. He already eats really healthy, but I am hoping to be as proactive as possible. I want my Pooper to have as much quality of life as quantity as he moves into his "golden years."