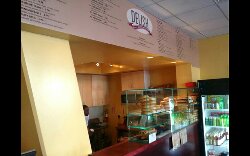 I sometimes stop by Delish for lunch when I neglect to bring food or am too lazy to prepare some. The other day I opted to have my sandwich there. Being somewhat a creature of habit these days, I got the same thing I always get, the grilled pesto chicken pannini. I ran off and left my wallet sitting in my chair. [1]Don't ask me how I accomplished that and someone was kind of enough to turn it in.
I freak out about an hour later, call, they have it, I run back by. One of the employees had gone out of his way to find me and try to get it back to me. Sadly, I don't keep any phone number references in my wallet. (Maybe I should?) Anyway, I was touched that in this day and age, there is still some honesty in the world. I had about $60 in cash in the wallet, and it was still there. Not a dollar was missing. [2]Yes, I gave them a fat tip for being so honest.
So, not only is the food good and the staff friendly, they're honest! They've definitely earned a loyal customer and I am calling the owner so he knows of the good deed!
If you're local, it's on Van Ness right next to the somewhat new Phil's coffee shop. Stop by sometime. Tell'em Moby sent ya!