I took a trip last weekend for the first time since the pandemic hit. It was our first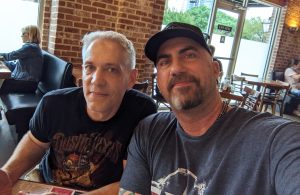 trip since January 2020 when we went on the cruise. Of course, I had to go see my bestie. It was supposed to both besties but Mikey had to work and couldn't come down from Dallas. (We were in Houston)
At least Trev and I got to spend quality time together and reconnect our friendship. Overall, it was a great trip. Prior to the pandemic, we had two trips planned to spend time together but that all went to sh*t obviously. It's been roughly 2 years since we've all seen each other. I'm headed back in July for Trev's birthday and Mikey will be there then.
Our friendship has spanned a lifetime and I am grateful it has survived so long. We didn't do anything crazy, just dinners, socializing, and a small pool party on Sunday. [1]Everyone in attendance was vaccinated.  I was pleasantly surprised how many places still required masks. Pretty much every restaurant or business we visited required masks to be worn for entry. No one was being an ass or making a fuss about it. It was an affirmation that while Texas politics might be crazy, many of the folks who live there are still very sane. Well, except the bars. We went out Saturday night and it was like there was no pandemic once you got indoors at the bar. Barely a mask insight. Even half the staff weren't wearing them.
To be fair, Houston has been pushing vaccines hard. Plenty of billboards were advertising for free vaccines and where to go. New cases are stable so while part of me was a bit shocked, it was my hope many of these folks were vaccinated. SF is now 70% for their 1st shot and 45% fully vaccinated. A few people I spoke to indicated they had had their shots so the overall experience was net positive in my mind. [2]Both Trevan and I have had our shots and with the current CDC guidelines we didn't feel like we posed a risk to anyone.  At this point, I'm pretty much over the ignorant folks.
Since originally it was supposed to be three of us, I didn't feel the need to torture Shawn by making him go with me. (The two besties and I together is more than poor Shawn can handle.) He ended up traveling to Phoenix the same weekend. Ironically, he encountered a similar experience at an outdoor bar there as well.
The trip home was uneventful, but I was absolutely giddy when I got home. It felt so good to get away and do just normal things. Socializing and seeing friends and just being out in the world felt so good. I definitely came back feeling like we are really coming out of this now.
Sadly, it is looking like we won't reach heard immunity because of all the idiots refusing to get vaccinated. We are still ahead of the curve at least. The current crop of vaccines are effective against all the variants out there so far. There are a few variants now that could potentially allow a person to become contagious or sick, but they would not get sick enough to die or even require hospitalization. And with speed the vaccines can be modified to incorporate immunity to new variants, I'm resigned to just getting a covid shot every year with the flu shot.
It was a great trip and I feel rejuvenated in many ways. I'm so excited to get back out into the world this year. Every day, we get news of more and more events being allowed due to dropping case numbers. SF is expected to reach herd immunity by the end of May. We could end up having no restrictions ahead of even the rest of California if this trend continues.
Hope springs eternal…