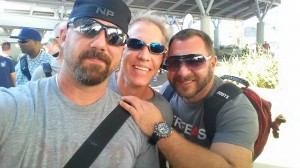 I'm home from the cruise. It was an absolute blast. There were a plethora of observations I made on a variety of subjects that will give birth for good blog fodder in the coming weeks. For now, I'm having a busy week at work and still playing catch up so very little time to sit down and put words to screen.
It was great to see two of my besties and hang with them. Our friendships just 'are', for lack of a better word. It was as if we'd just seen each other the day before.
By the 5th day into the 7-day trip I was ready to come home. Mostly, as you can guess, because I missed The Pup. I won't be doing a trip like this again without him, that is for sure. I'm glad he didn't let me cancel the trip but I was pretty ready to be home. He was ready for me to be home too. My poor guy was pretty lonesome for me as well it seems. He met me at the MUNI station with Cooper in tow and I almost burst into tears of happiness. And I think we're stronger than ever, if that's even possible. hehehe
I have to go but definitely more to say later.