Ever get in one of those moods where you just crave a certain food for days?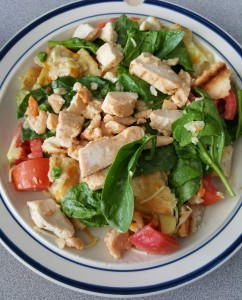 Last week I had a craving for a potpie. It hounded me to the point where I finally gave in. I grew up with the little Swanson ones that used to come in the metal tins. They were crust meat, veggies, and sauce. You threw'em in the oven for about 30-40 mins and presto! Delicious gooey and never good for you. haha  Fast forward to today and potpies are disgusting globs of over overly processed dough, very little filler, and a tiny bit of veggies and meat in an effort to accommodate the microwave. You can get larger ones that taste better, but those are so high in sodium and fat you're doomed either way.
To offset my desire for such heart-killing food, I threw in fresh cut tomatoes, roasted chicken, extra mixed veggies, and spinach. The new unholy concoction was so tasty and no where near as bad for me. hehe  You can't even really see the potpie at all. Well, if you look close, you can see some crust mixed in there. I had said feast three days straight until I sated the beast!
Thankfully, the craving was calmed and I moved on. It was odd though because it reminded me of growing up and making them. There were a few years between when my foster mom passed away and my dad remarried. Being a bachelor with kids, he tended to focus on food that was easy to make. Potpies fit that bill nicely. There were plenty of nights where I would beg him to have potpies and he was all too ready to agree as it meant no cooking for him. I'd start the oven, grab the pies and shove'em in the oven as soon as it dinged.  I never once failed to not burn my fingers. lol
It sort of hit me that it been a comfort food for me. So while I won't be bringing back as a staple in my diet, it was a nice walk down memory lane.